Performing 1920 - 40's Popular Music, Hot Jazz, Hawaiian Instrumentals & Blues!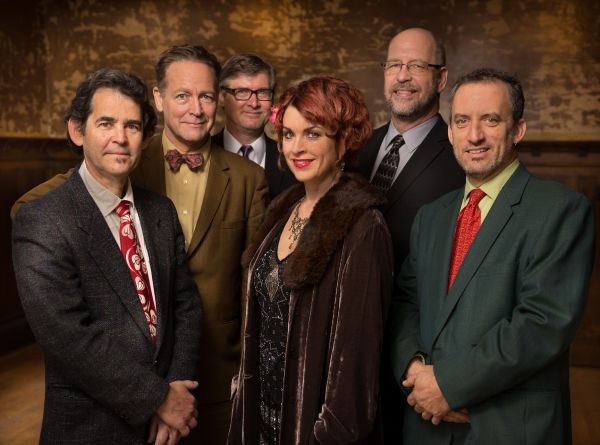 Proving that hot jazz and vintage swing of the 1920 - 40's is as relevant as ever in the present day, the Midnight Serenaders provide an infectious and irreverent take on the raucous and carefree music of "The Jazz Age." The band formed in 2005, putting together a sound reminiscent of the small swing combos popular during the 20's and 30's, adding a Hawaiian flavor with the inclusion of ukulele and Hawaiian Steel guitar, with lots of clarinet and muted trumpet. Led by the charming frontline of crooner/rhythm guitarist Doug Sammons and ukelele-strumming chanteuse Dee Settlemier, the Serenaders' repertoire consists of specially chosen gems from the past, as well as vintage sounding original songs. The Midnight Serenaders are based in Portland, Oregon and perform at clubs and events throughout the Pacific Northwest, continuing to delight audiences with their brand of hot retro swing.
We have two shows coming up in the mid Willamette Valley are of Oregon. One is a sit down show at Trexler Farms outside of Stayton. The other is a dance as part of the Chintimini Senior & Community Center Night Club Series in Corvallis. See the our Shows page for details.
Just so you know, all four of the Midnight Serenaders' CD's are now available for $12.00 each from CD Baby. Visit our CD Baby page to listen to samples and make purchases.


"The Midnight Serenaders recreation of Jazz Age swing is so convincing that it's often difficult to differentiate between old standards and the band's original tunes. Ukelele-strumming songbird Dee Settlemier and co-vocalist Doug Sammons perfectly communicate the coy innocence of a bygone era, while their bandmates offer a sprightly musical backdrop. - Barbara Mitchell , Portland Tribune


There are 4 Midnight Serenaders' recordings.
Click on a cover to listen to samples of the tracks or to purchase! Visit our Recordings page for more information and reviews.